Hardwood Flooring in Baytown, TX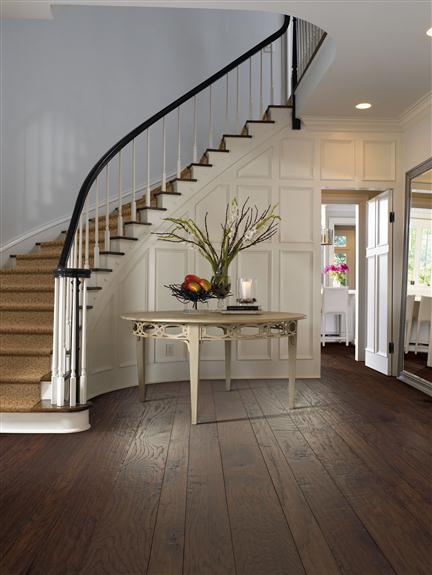 Your stately home deserves hardwood flooring in Baytown, TX. The two main types are solid and engineered wood. Both bring the natural elegance of wood to your home, but each has different qualities and benefits. To discover which type of hardwood floors best meets your design preferences and lifestyle requirements, turn to Hall's Carpet Haus. We have a wide and varied stock in our flooring showroom, including famous brands, such as:
Floorcraft
Inhabit
Baroque
Star Values
The Differences in Wood
Of course, there is a multitude of species, both domestic and exotic -- from oak to Brazilian cherry to birch and hickory. Then, there is a variety of finishes from smooth to scraped to textured and sandblasted. Then, too, there are the colors from the lightness of ash to the darkness of mahogany. And these are just the esthetics.
You want to concern yourself with the properties, too. For instance, solid wood is milled from a plank of wood. It's one piece of wood through and through, which makes it sturdy and enduring. Plus, you can sand, refinish, and stain the floor, preserving its appearance and beauty for many long years.
The other option is engineered wood. This is multilayered wood with a veneer of the wood of your choice on the surface and durable fiberboard underneath. Engineered wood is better at withstanding changes in humidity and costs less than solid. Whichever you choose, we recommend professional installation so you get maximum beauty and longevity from your wood flooring.
Hardwood Flooring Installation
Choose our high-quality, affordable floors for straightforward installation from our experienced team of specialists. With professional work, your floor can last for generations. When the process is done incorrectly, however, it could result in preventable expenses. We do the job right the first time. Visit our showroom to start your design journey the right way.
Eliminate the guesswork involved in finding the hardwood that works best with your style and budget with a visit to Hall's Carpet Haus. We back all products and installations with our Ultimate Confidence Guarantee. Contact us if any issues arise, and we'll replace your floors with a similar product for 30 days after installation. We're here to help you create the interior experience you've always wanted. With the selection and value we offer every day, you can trust us as your source for stylish, durable, and budget-friendly flooring.

Walk on hardwood in your home. Call [PHONE]